Nokia
Lumia 610
MMS
Manual configuration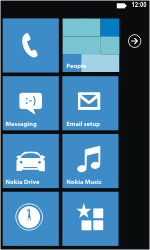 The Nokia Lumia 610 will be provisioned autimatically with the right settings upon first usage with the BASE SIM card.
To verify this, send an MMS message to your own mobile number to test the settings.
If MMS doesn't work, reset your device to factory settings (via Settings, About, reset your phone). Unfortunately, manually changing the MMS settings is not possible in this case.