You have selected
All the tutorials
BlackBerry
9860 Torch
BlackBerry activation
BlackBerry ID activation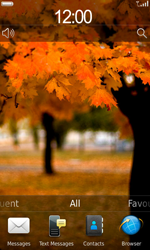 To send and receive e-mails, browse the web, or use BlackBerry App World, you need a BlackBerry ID on your BlackBerry 9860 Torch.
If needed, click Next for instructions how to create and configure the ID.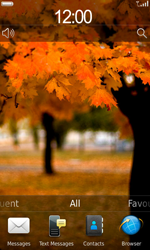 Start screen.
Choose All.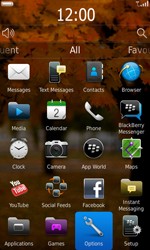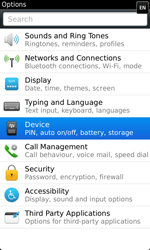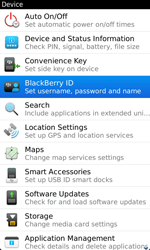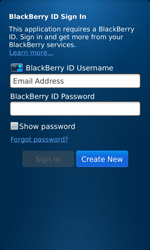 To log into your existing Blackberry ID, enter your login information, and choose Sign In.
To create a new Blackberry ID, choose Create New, and go to the next step.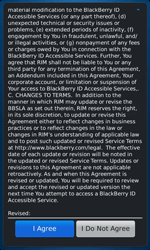 Read the terms and conditions, and choose I Agree.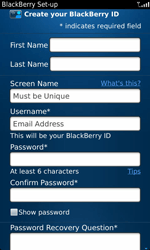 Under First Name, enter your first name.
Under Last Name, enter your last name.
Under Screen Name, enter a user name.
Under Username, enter [[sp_email_address]].
Under Password, enter a password.
Under Confirm Password, re-enter the password.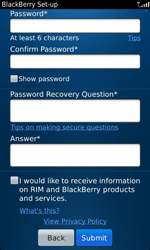 Scroll down.
The following information can be used to retrieve a lost password.
Under Password Recovery Question, enter a security question.
Under Answer, provide the answer.
Choose Submit.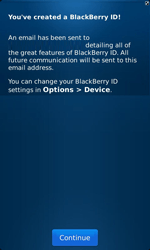 Your Blackberry ID is created and linked to your BlackBerry 9860 Torch.
Choose Continue.
Return to the Start screen.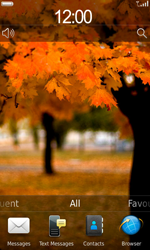 The BlackBerry 9860 Torch is now ready for setting up e-mail and BlackBerry App World.