You have selected
Apple iPhone 7
Select another device
Apple
iPhone 7
iOS features
Customise notifications
Receiving too many notifications can sometimes be overwhelming and distracting. This tutorial will help you gain more control over your notifications by customising what pops up on your screen.
We will guide you step-by-step through the customisation of the Notifications app.
Go to the Start screen.
Choose Settings.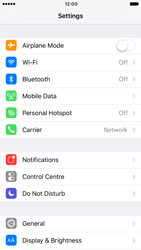 Choose an application, for example App Store.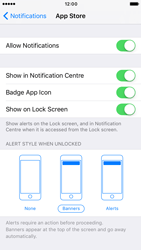 To disable notifications for this application, disable Allow Notifications.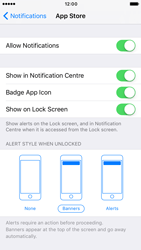 To stop notifications for this app being shown in the Notification Centre, disable Show in Notification Centre.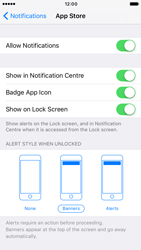 A badge app icon is the number in the red circle at the right upper corner of an app that indicates how many notifications you have received from the app.
To stop showing badge app icons for this app in the Notification Centre, disable Badge App Icon.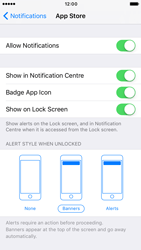 To stop showing notifications for this app on the lock screen, disable Show on Lock Screen.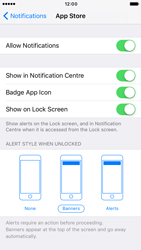 Under ALERT STYLE WHEN UNLOCKED, you can set the style of notifications you receive when your Apple iPhone 7 is unlocked. If you choose:
None: no notification will appear from the status bar.
Banners: the notification will come down from the status bar and will disappear automatically.
Alerts: alerts require an action before proceeding.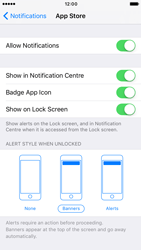 Your notifications have now been customised.
To view your notifications, drag the status bar down.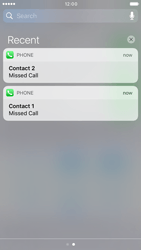 If you have received notifications, these will be displayed here in the Notification Centre.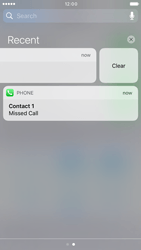 To remove a notification, swipe the notification to the side of the screen and choose Clear.
To remove all notifications, choose the cross symbol.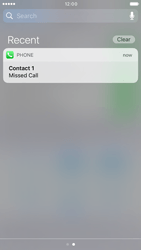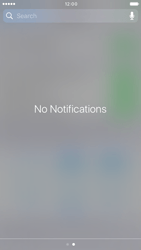 All notifications have been removed.
Return to the Start screen.